Welcome
The Refugee Response (TRR) empowers refugees to become self-sufficient and contributing members of their new communities. The Refugee Response was formed to help refugees adjust to life in Northeast Ohio. We work to empower our area's growing newcomer population, particularly those here between three months and five years by providing opportunities to acquire the skills they need to succeed in their new communities.
Learn More

A Year of Growth
TRR is continuing to grow and expand its reach to the resettled refugee communities in northeast Ohio. There are now more than 50 students served by our home tutoring program, ten students are receiving scholarships to attend top Cleveland schools, and this year our REAP program added two new trainees and distributed more than 11 tons of fresh produce to local businesses and individuals. This phenomenal progress would not be possible without the generous giving of our supporters. Please consider making a donation in any amount to help us continue making great strides ahead.
Our Supporters
The services we provide for our community's refugee population are made possible by the generous contributions of many outstanding individual donors, foundations, and corporations. Thank you! Learn more about our supporters >>
REAP the Benefit 2015
Join us for...
REAP the Benefit 2015: A Night on the Farm
Saturday, August 29th, 2015 – 7:00pm to 10:30pm
The Ohio City Farm - Bridge Ave. & W. 24th St.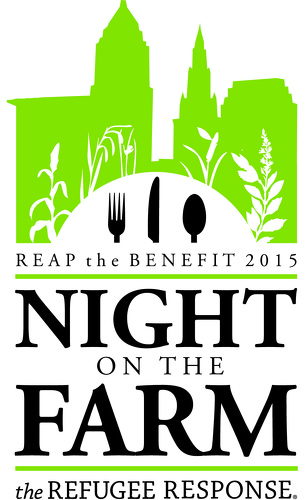 Purchase Tickets Now
REAP the Benefit 2015: A Night on the Farm is a unique opportunity to experience an unforgettable summer evening at the nation's largest urban farm set against the backdrop of beautiful city skyline. The Refugee Response is proud to welcome Arun Gandhi, the grandson of Mahatma Gandhi, who has dedicate his life's work to spreading the philosophy of non-violence. Cleveland's premier chefs will create a truly unique culinary experience as they utilize produce cultivated by our REAP trainees at their individual chef stations. Guests will also be graced with traditional music and dance from members of our local refugee community and capped by a performance by The Revolution Brass Band, Cleveland's hottest horn-and-percussion group.
CSA 2015
Through our Community Supported Agriculture program, you can receive fresh produce from Ohio City Farm each week, as well as donate shares of produce to local families in need. We are now accepting registration for the 2015 REAP CSA program. Sign up today >>
Newsfeed
Refugee Response, Cleveland's tiller of the good earth, hires its first executive director: the Mix
http://www.cleveland.com/busin...
Recently, The Refugee Response took a major step in its evolution. It hired its first full-time executive director. Darren Hamm, the former deputy director of Neighborhood Housing Services of Greater Cleveland, is charged with expanding innovative programs that have shown results.More>>
Northeast Ohio farms signing up CSA customers for the 2014 growing season
http://www.cleveland.com/cooki...
Read about local CSAs that offer meat, help others in their community, and are hoping to blaze a trail of success for farmers in the future. Call a farm. Have a conversation with a farmer and see if they're the right partner for you. Talk to some of their members.More>>